Eco-balm Nine Forces
(to relieve pain in muscles and ligaments)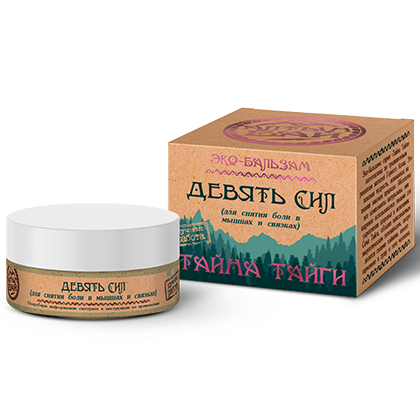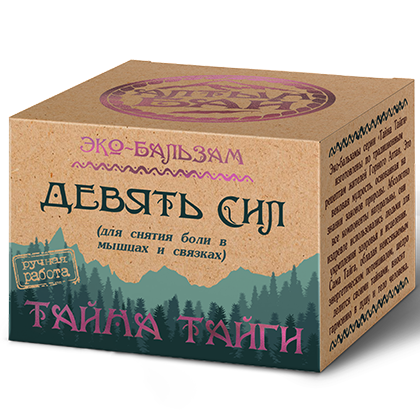 The harmonious combination of the components of the balm helps to relieve muscle pain during sports activities. It is effective in stretching the ligaments, contributes to the speedy healing of bruises. Relieves puffiness, improves blood circulation, relieves muscle spasms, relieves the feeling of heaviness and fatigue.
Nine components of the balm have a quick and safe effect on painful sensations in the muscles during sports loads, sprains, and promote quick healing of bruises.
Pine nut oil is a valuable source of vitamins, biologically active substances, an excellent conductor of medicinal components into soft tissues.
Fir essential oil improves blood circulation, increases the energy potential of cells.
Elecampane extract is used as an anti-inflammatory and analgesic agent for various injuries to muscles, ligaments, and inflamed joints.
Horsetail normalizes lymph flow, metabolic processes in joints and periarticular tissues, relieves swelling.
Yarrow is effective for pain in the calf muscles, improves muscle nutrition.
Mint is a good muscle relaxant, relieves pain, relieves the feeling of heaviness.
Propolis and stone oil are components that nourish ligaments and muscle tissues with essential trace elements, relieve fatigue.
Ingredients: pine nut oil, beeswax, essential fir oil, elecampane root extract, horsetail extract, yarrow extract, mint extract, propolis, stone oil.
Volume: 50 ml.
How to use: Apply to the diseased areas of the body with massage rubbing movements until the ointment is completely absorbed. Apply 2-4 times a day.
Contraindications: individual intolerance to the components.
Shelf life: 2 years at a temperature of no more than + 45C and a relative humidity of no more than 80%