Eco-balm Strength of cedar
(for joints and spine)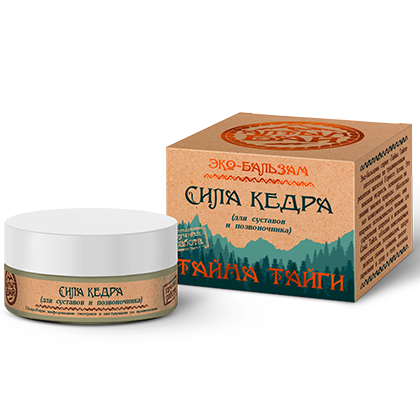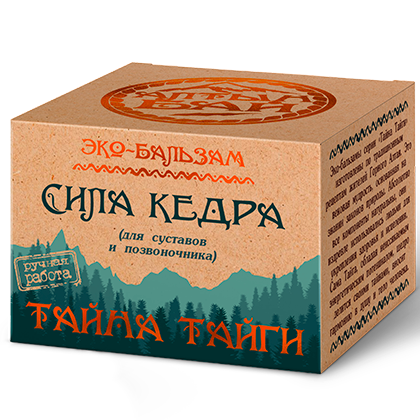 It has a strong analgesic and anti-inflammatory effect. The composition is enriched with vitamin and mineral components that strengthen bone tissue. It is used for arthritis, arthrosis, rheumatism, radiculitis, osteochondrosis, intervertebral hernias.
The peoples living in the taiga, since ancient times, identified the cedar with strength, perceived it as a source of healing cosmic energy, as a strong, indestructible support. The basis of this balm is cedar nut oil, a concentration of vitality. It is saturated with extracts of the best herbs of Altai Mountains, capable of healing diseases of the musculoskeletal system.
Sabelnik is an analgesic and antispasmodic agent that helps with arthritis and arthrosis.
Omik is an excellent antispasmodic, helps to cope with various types of pain, is effective for rheumatism, arthritis, polyarthritis, radiculitis, gout, and also for hernias.
Burdock root - stops inflammation and painful manifestations in the joints, contributes to their strengthening and rapid recovery.
Essential oils, which have a strong anti-inflammatory effect, quickly relieve pain, improve blood circulation.
Mumiyo Altai is an excellent source of minerals and trace elements that strengthens bone tissue.
Ingredients: cedar nut oil, beeswax, saber extract, omik extract, burdock root extract, Altai mummy, essential fir oil, essential pine oil, essential pine oil.
Volume: 50 ml.
How to use: Apply to the sore joint, grind until completely absorbed. Apply 2-3 times a day. To enhance the effect (regardless of the localization of pain), it is recommended to rub the balm with light massage movements along the entire spinal column once a day.
Contraindications: individual intolerance to the components.
Shelf life: 2 years at a temperature of no more than + 45C and a relative humidity of no more than 80%