Eco-balm Taiga Welding Fir (anti-inflammatory)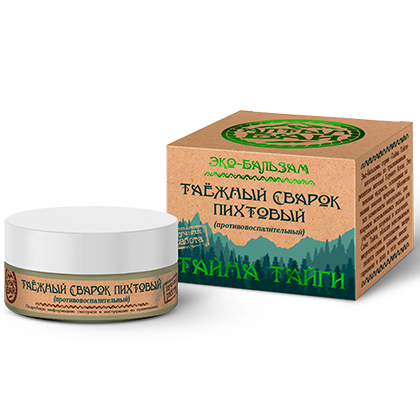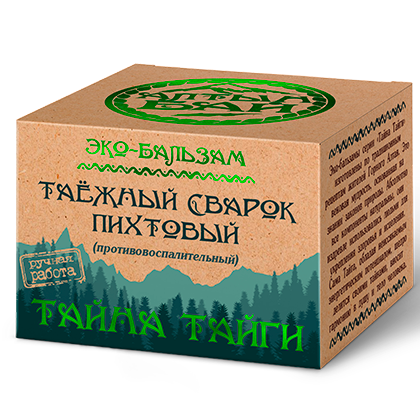 It has a strong anti-inflammatory effect, fights against pathogenic microflora, has a pronounced antiviral effect, and increases the protective properties of the skin. Promotes the rapid healing of any wounds and skin damage.
It is used to treat wounds, cuts, abrasions, herpes, and other skin diseases:
- increases the natural immunity of the skin, when applied to the mucous membranes of the nose and throat has a pronounced antiviral and antibacterial effect, quickly relieves inflammation, heals a runny nose;
- effectively heals heel cracks, softens the skin of the feet, treats fungal diseases;
- reduces itching and soreness after insect bites, relieves swelling;
- promotes absorption of seals, stimulates tissue healing, prevents the development of rough scars after various injuries: wounds, burns, frostbite, postoperative sutures, furunculosis, acne on the face;
- restores skin elasticity, softens it when chapped and dry.
- Improves tissue blood supply, can be applied to sore joints to relieve inflammation and pain.
Ingredients: fir resin (sap), beeswax, pine nut oil, essential fir oil.
Volume: 50 ml.
How to use: Apply to damaged skin areas at intervals of at least 2 hours. As a prophylaxis for inflammatory and viral diseases, you can lubricate the mucous membrane of the nose and throat 2-3 times a day.
Contraindications: individual intolerance to the components.
Shelf life: 2 years at a temperature of no more than + 45C and a relative humidity of no more than 80%